DESCRIPTION
CIRLS™ is an extremely rugged beacon system that has been engineered to meet the needs of Drop Zone (DZ) and Emergency Airfield (EAF) marking requirements by providing a dependable lightweight zone marking solution. The CIRLS system is currently utilized by United States Army and Air Force as well as NATO for high altitude DZ marking.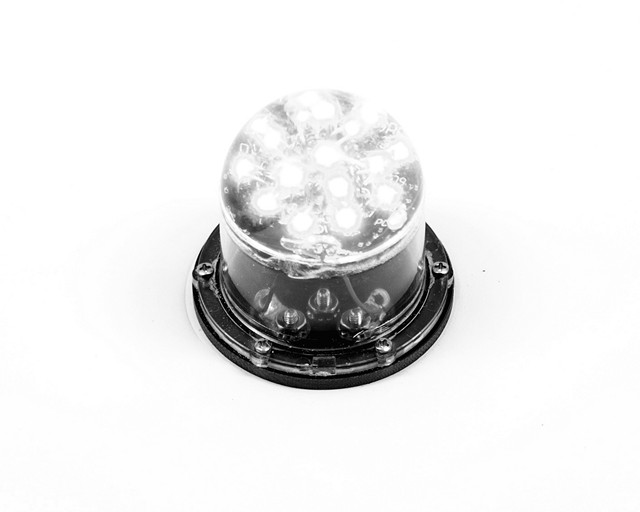 The CIRLS™ SWIR Light Head (1050nm) incorporates an 18-LED array in a domed head filled with a proprietary resin that enhances the LED's light dispersion while sealing the electronic components. Short Wave Infrared can be seen with SWIR (InGaAs )Cameras, but cannot be seen with Near IR Night Vision Equipment or Thermal Sensors.
The CIRLS Light Head can easily be switched ON or OFF via a single switch. The CIRLS SWIR Light Head is available in Constant ON or Flashing modes.
The CIRLS light head attaches to the MIL-STD BA-5598/U lithium pack battery or our CIRLS™ 123A / AA Battery Box (NSN: 6130-01-623-4297) (905117).
SPECIFICATIONS
Weight: 2.6 ounces | 74 Grams
Size: 2.1" x 2.25" | 54mm x 57mm
Flash repeat cycle: Constant ON or Flashing (0.8 per second)
Battery: MIL-STD BA-5598/U, CIRLS™ 123A / AA Battery Box (NSN: 6130-01-623-4297) (905117), or our legacy CIRLS™ Battery Box (905111PP3)
Configuration: 18 Light Emitting Diodes (LED)
Coverage: 240 degrees x 360 degrees
Switching: Push Button
Wavelength Options:
CIRLS Flashing IR (903522IR)
CIRLS Constant On IR (903523IR)
Alternate frequencies available upon request.
Product Datasheet: pdf CIRLS™ (181 KB)