DESCRIPTION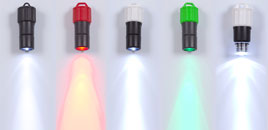 The MK10 Finger Light was designed as a low cost water and chemical resistant short-range lighting tool. Originally designed for pilots, the popularity of these simple-to-use Finger Lights have made them required tools for ground forces, medical personnel, and logistics staff. Anywhere hands free light is needed, the finger light has found a home.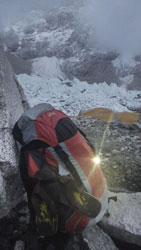 Xtreme Everest 2 Expedition
(Read the Testimonial)Affixed to the top of the users index finger, with the included Velcro strap, the operator can easily switch the light ON or OFF by rotating the end cap. The MK10's sealed and virtually indestructible light emitting diode (LED) light is available in a variety of colors including Yellow, Blue, Bright Green, Red, White, IR and a reduced emission NVG green for use in conjunction with Night Vision Equipment. The MK10 Finger Light can also be supplied in ultraviolet (UV) for security or medical use. The Mk10 Finger Light is water resistant to a depth of 150 feet.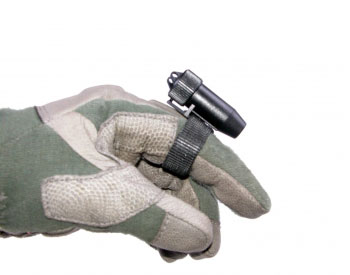 The finger light is ideally suited for operations requiring minimal light or situations where preserving night vision while navigating, tracking, map reading, or other close work is critical. Powered by three A76 Batteries, the MK10 Finger Light will provide light over several hours of operation.
SPECIFICATIONS
Weight: 0.6 Ounce | 17 Grams with batteries
Size: 2" x .75" x .75" | 51mm x 19mm x 19mm
Switching: ON/OFF Rotate Cap
Battery: Three A76 Alkaline Batteries
Configuration: One Spot Light Emitting Diodes (LED)
Mounting: Included Velcro Finger Strap
Color Options: Amber (907118A), Red (907118R), Blue (907118B), White (907118W), IR(907118IR), Bright Green (907118G), Night Vision Green NVG (907118NVG), Ultraviolet (907118UV)
Alternate frequencies available on request
Product Datasheet: pdf Finger Light MK10 (141 KB)