DESCRIPTION
The MK3 Integrated Bracket Lip Light is a focused short-range lighting tool designed to provide pilots with hands-free illumination during night flight operations. Since its inception, the Lip Lights role and functionality have extended making it a required tool for cockpit and flight deck.
The MK3 Integrated Bracket is intended for installation on all microphone booms, including wireframe booms, where a pivot screw is used to secure the microphone capsule.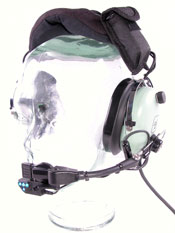 The MK3 Lip Light uses one SPOT and three FLOOD Super Bright LED's to light the work area. The operator can easily switch between SPOT, FLOOD or SPOT and FLOOD light modes to change the size of the area illuminated via the single mode function button on the front of the unit. SPOT and FLOOD LED's can be ordered in different color combinations allowing the same light to be used in different roles. The mode function button also allows the operator to adjust the lights brightness level providing additional flexibility.
The Lip Light is activated by depressing the lip switch on the back of the unit. The operator can either select from ON/OFF or momentary switching. Powered by 2 AA batteries, the MK3 gives the user exceptional performance over weeks of operations.
SPECIFICATIONS
Weight
Light and Cable 0.6 Ounce | 17 Grams
Battery Pack - 2.1 Ounces | 59 Grams with batteries
Size
2.4" x 0.7" x 0.78" | 61mm x 18mm x 20mm<
Light Modes
SPOT, FLOOD and SPOT and FLOOD
Light Intensity
User controllable brightness level
Switching
Lip switch
Battery
2 AA Common Alkaline Batteries
Configuration
3 Flood and 1 Spot Light Emitting Diodes (LED). Flood and Spot can be ordered as the same or different colors
Mounting
Pivot Screw Mount
Included Accessories
Mounting Screws, and spacers. Nylon Bag not included
Alternate frequencies available on request
Product Datasheet: pdf Lip Light MK3 IB (382 KB)